Worker Protection
Always read and understand the manufacturers' Safety Data Sheet (SDS) and drum or container labels for the spray polyurethane foam (SPF) and other materials before you start your SPF application. Many different variables are present during SPF application, so evaluate each application and job site individually so that appropriate worker protection can be afforded.
Previously referred to as Material Safety Data Sheets, SDS have been revised to comply with updated OSHA regulations for the OSHA Hazard Communications Standard. December 31, 2013 was the deadline to provide training on the new SDSs.
Helpful resources available from OSHA include:
Hazard Communication:

The OSHA Hazard Communication Standard* was designed to provide employees with information on the identities and hazards of all chemicals or materials used in the workplace and the recommended protective measures. According to the OSHA Hazard Communications Standard, all employers are required to have a written hazard communications program to meet the requirements addressed in 29 CFR 1910.1200. Violations related to the Hazard Communications Standard are some of the most frequently cited by OSHA compliance officers during inspections. Requirements of the standard include development of a written program to address the following components: labels and other forms of warning, SDSs, and employee training and information.
Some questions for employers to consider include:
Do you have a written Hazard Communication Program?
Do you have a list of all chemicals in the workplace and their potential hazards?
Are all Safety Data Sheets (SDSs) readily accessible to every employee?

Do you have SDSs in a language that all employees can read and understand?

Have your employees been trained on:

Reading labels?
Reading and understanding an SDS?
How to obtain and use hazard information?
Appropriate work procedures?
Emergency Procedures?
Proper personal protective equipment, maintenance and cleaning for each type of job?

Do you have a medical surveillance program for employees if hazardous chemicals are being used (such as respiratory and skin sensitizers)?
*The OSHA Hazard Communication Standard was updated to conform to the United Nations Globally Harmonized System for Classification and Labeling of Chemicals (GHS). Click here to view additional guidance on OSHA's revised communication standard. A copy of the final rule in its entirety can be found on OSHA's website at http://www.osha.gov/dsg/hazcom/ghs-final-rule.html.
Labels and Other Forms of Warning:
According to the OSHA Hazard Communication Standard, chemical containers must be labeled and the information contained on the label must be legible and prominently displayed. Chemical labels identify the contents of a container used at a worksite. In addition, labels also convey information related to the toxicological, chemical, and physical properties associated with the chemical. As of, June 1, 2015, all labels are required by OSHA to have pictograms, a signal word, hazard and precautionary statements, the product identifier, and supplier identification. A sample of a new Hazard Communication label, identifying the required label elements, is shown below.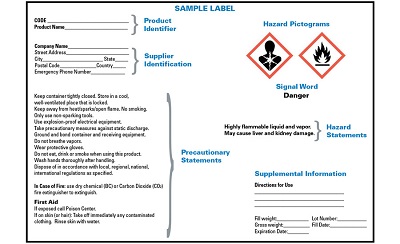 It is good practice to maintain the original manufacturer's label. When chemicals are transferred into unmarked containers, OSHA requires that these containers be labeled with the required information as well, except when transferred for immediate use by the employee who performed the transfer.
Many systems have been developed for labeling potentially hazardous chemicals. Employers may choose to label workplace containers either with the same label that would appear on shipped containers for the chemical under the revised Hazard Communication Standard*, or with label alternatives that meet the requirements for the revised standard. Alternative labeling systems such as the National Fire Protection Association (NFPA) and the Hazardous Material Information System (HMIS) are permitted for workplace containers. However, the information supplied on these labels must be consistent with the revised OSHA Hazard Communication Standard for labeling.
The HMIS refers to hazards during anticipated use while the NFPA system describes hazards under fire conditions. Therefore, the two systems may have different hazard categories for the same material.
An example of a typical HMIS hazard-warning label is shown below: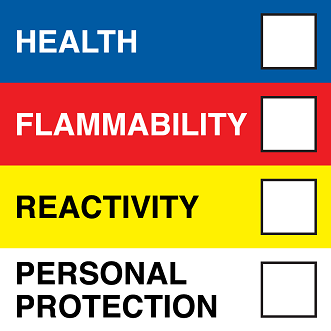 It ranks the hazard the material poses from 0 to 4 in these categories: Health (blue), Flammability (red), and Reactivity/Physical Hazard (yellow). A rank of 0 indicates that the material presents a minimal hazard for that category. A rank of 4 indicates a severe hazard for that category. The HMIS label also may depict the type of PPE required, but the narrative descriptions on the drum label and in the SDS should be reviewed.
In the NFPA label, the left diamond is for the health ranking (blue), the top for the fire or flammability ranking (red), and the right for the instability ranking (yellow). The bottom diamond (white) denotes any other significant hazards associated with the material such as a chemical that is reactive with water.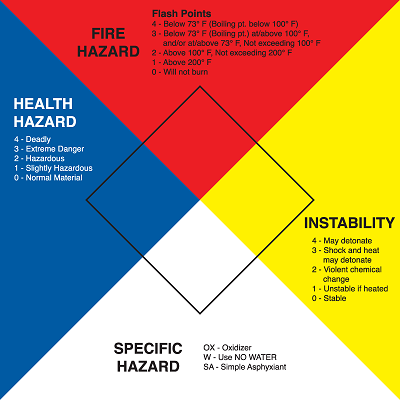 *The OSHA Hazard Communication Standard was updated to conform to the United Nations Globally Harmonized System for Classification and Labeling of Chemicals (GHS). Click here to view additional guidance on OSHA's revised communication standard. A copy of the final rule in its entirety can be found on OSHA's website at http://www.osha.gov/dsg/hazcom/ghs-final-rule.html.
Safety Data Sheets (SDS):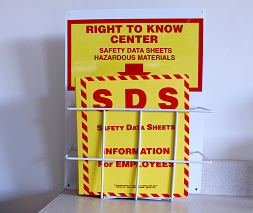 As part of the Hazard Communication Standard, OSHA requires chemical manufacturers and importers to obtain or develop an SDS (formerly known as Material Safety Data Sheet or MSDS) for each hazardous chemical they produce or import. Employers are required to have an SDS in the workplace for each hazardous chemical they use. If you do not have an SDS for a chemical used at your worksite, contact the manufacturer.
Before using any SPF product, read and understand the entire SDS for the product. As of June 1, 2015 OSHA will require new SDSs to be in a uniform format, and include the section numbers, the headings, and associated information. The SDS contains important information about the product, including the chemicals constituents and the approximate concentrations; the PPE appropriate for the job; information on how to handle accidental releases; and information on storage, handling, transportation, and disposal.
OSHA requires that all SDS be readily available to all workers at the jobsite, which may include other trade workers. Keeping one clean copy of each SDS in a clearly marked binder is a good practice that helps keep the information readily accessible. Many contractors like to keep several spare copies of SDSs on hand; in the event of an emergency or incident, this allows multiple copies to be available for emergency responders. Another good practice is to review the location of the SDS binder with all workers on the SPF jobsite before the job begins.
Many SDS are now available online, so workers with enabled mobile devices or in-truck internet service may also be able to access them electronically on site. In addition, it may be possible to obtain the SDS in multiple languages if needed. Contact the manufacturer for more information, and refer to additional product stewardship guidance titled Have You Read the SDS?
Employee Training and Information:
As a component of the OSHA Hazard Communication Standard, employees are provided Hazard Communication training upon initial assignment. The training includes information on the hazardous chemicals the employees are working with, the control measures to reduce the potential for exposure, and how to read the SDS and product labels. The training also includes worksite-specific information including work practices, PPE to be used, and emergency procedures. OSHA requires that the employee have the opportunity to ask questions and be able to demonstrate comprehension.
The training must be understandable for the employee. When employees receive work instructions in languages other than English, employers are required to provide training in that language as well.
Additional training is needed when a new physical or health hazard is introduced into the work area. At multi-employer worksites, additional training may be needed so that all employees know where the SDSs are located, details related to the labeling systems, and the hazards associated with other chemicals at the worksite they may be exposed to.
The revised Hazard Communication Standard required Employers to train workers by December 1, 2013 on the new label elements and SDS format to facilitate recognition and understanding by workers. The below table summarizes the phase-in dates required under the revised Hazard Communication Standard:
Effective Completion Date
Requirement(s)
December 1, 2013
Ensure employees are trained on the new label elements and SDS format.
June 1, 2015
Manufacturers must comply with all provisions of OSHA's Final Rule.
(The rule allows distributors may ship chemicals previously labeled with old labels until December 1, 2015).
June 1, 2016
Update alternative workplace labeling and hazard communication program as necessary, and provide additional employee training for newly identified physical or health hazards.
"Green" Marketing Claims and Hazard Communications:
"Green claims" are in many spray polyurethane foam advertisements, promotional materials, sales claims, and labels today. Green claims are the marketing response to consumers' increasing interest in protecting the environment. They can help consumers better understand the environmental attributes of a product or service, like its contribution to energy efficiency, and help inform purchasing decisions.
An SPF marketing claim often points out a particular product feature or benefit; for example, an SPF marketing claim may point out that a product is made using a renewable, plant-based resource. A properly qualified "green" marketing claim about a particular attribute, such as renewable content in a product, should never be confused with the toxicity profile of a product. Application and use instructions should always be consulted, including SDS, manufacturer's instructions, and label instructions. An SPF marketing claim should not be confused with instructions on how to safely use and apply the SPF product. See Green Marketing Claims and SPF for more information.